How To Lose Weight by FunnySexy
About 27 of my office mates commented last Monday that I was fat and/or gaining weight. And that's saying a lot since there are only 15 people in our company. WTF. That's why I rarely wear sleeveless shirts. My arms are as huge as Batista's, except that they're all flabs.
I don't know what's wrong with my body, really. It's like an inflatable salbabida. I'd pig out over the weekend and I'd look like Star Jones (pre-gastric operation) two days after but at the same time I'd get sick for four days and people would ask if I had liposuction.
However, I'm not exactly skinny right now and I feel the need to share with you, my beloved two readers, my tried and tested ways of being Paris Hiton-thin if only to inspire me to lose weight myself.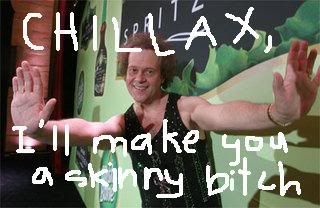 1. Stick your finger inside your mouth
And regurgitate every single morsel of food you ate. Not only will it make you lose weight, it's also an exercise to control your gag reflex, which may make your boyfriend really really happy.
2. Drink water from the driking fountains of UST
Because UST tap water = Typhoid = Fever and Diarrhea = Chapped Lips and Falling Hair = Instant Sex Symbol. You won't have to take anything for a week except for Gatorade, Sky Flakes and your medication. Trust me, I should know.
3. Have your wisdom teeth pulled out
If possible once a week, for a whole month – AFTER YOU GET BRACES (and a root canal if you're adventurous enough). Unless you have an incredibly high tolerance for pain, chances are you'd live off of your saliva and random liquid lose weight faster than I could say "Gyms are Gay".
4. Carry chili sauce in your pocket everyday
All you have to do is put it on your food whenever you feel the urge to eat. Like heaps of it. Put it on your potato chips, your blackforrest cake, your paksiw, hell even on your diet Coke. The side effects though are… well… burnt mouth and perhaps a dissolved tongue.
5. Post this photo up your wall, preferably on a spot you'd see first thing in the morning
'Nuff said.
PS: I have nothing against non-skinny people.
PPS:I've always thought hell weeks would end by the time I graduate. My absence these past few days clearly explain how stupid I am to even have such an idea. Sorry. Career > Internet > Love. Uhm, wutt?
Tags: bulimia, diet, funnysexy, Humor and Crack, losing weight
Trackback from your site.