Archive for June, 2008
Sooo… after 12 months and 52 posts, the 26th finally marked the 1st anniversary of my FunnySexy blog. FTW! I'm glad to have met many people through this blog and I hope to keep my 2 readers happy for another funnysexy year. <- wth so showbiz ew.
But that's not the highlight of my week, really. You see, I turned a year older on the 24th. Not excited about it one bit but it can't be helped. I srsly feel old. I mean 2 years ago I took delight at seeing people's faces when they find out how young I was to be doing what I do. But now, they ask me and kinda just… nod.
However, after reading Tuesdays with Morrie, I realized one shouldn't be afraid of growing old. There were a lot of things I've learned the past couple of years that made me the person that I am. If I was stuck at being 13 for the rest of my life then it wouldn't be so fun, would it? So I have no choice but to embrace my age and just make the most out of it.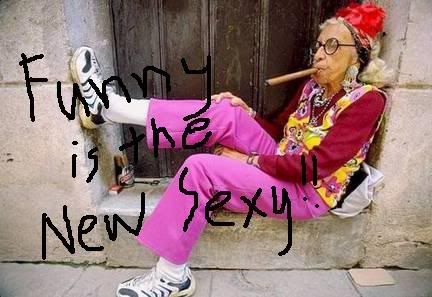 And so, to be dramatic and shit, I decided for the sake of this post to list the things I would want to tell my 13 year old self if we get the chance to meet each other and maybe give her a pat on the back with a grin on my face. I bet she'd be soooo freaked out at how awesome she'd turn out to be. Nakanamp!
"Coming Out Hair", that's what my friends call it. One asked if I already got fed up hiding in the closet, that I decided to "come out" by looking more butch than Aiza Seguerra. I don't know what's the big deal about it, really. I was tired of my long, damaged hair so I pretty much chopped it all off (not in a G.I. Jane kinda way, mmkay?) and ended up getting varied reactions from people.
Ego, friend of a blogger friend: Kring! You uhm, cut your hair… O_o Are you depressed?
Heysel, long time friend: Why, hello tharr, tita Jovy! (referring to my mom. We apparently look like twins now.)
Ms. Elvie, our accountant: Nice! You're so pretty! It looks better on you!

P0yt, tanggera: WTF, dude. -_-
Wil, retarded friend: Aiza!!! *sings* pagdating ng panahon… Wahahahahahaha!!!

Boss: Who is this guy? Kring?! What the hell???
Me: Shuddup. It looks hot. Imma get more guys with this 'do!
Boss: Oh yeah, and girls, too. *smirks*
Me: Is that supposed to be a bad thing?
NO. I'M NOT A LEZBO. THERE'S NO REASON FOR ME TO COME OUT, TOO BECAUSE I WAS NEVER IN THE CLOSET TO BEGIN WITH. I honestly just wanted to look completely like a certain leader of a Korean boyband lol and ended up looking like a gay guy pretending to be a girl who's trying to look androgynous. Confused? Me, too.
Pics after the jump! (Huh? Where do we jump? Is it New Year's Eve already? Why am I so corny?)
Hi. My name is Kring. I own this blog.
The past few weeks, however, I've been kinda absent here and the blogosphere, which only means one thing- I have a new show coming up. So watch out for it, please. It's gonna kick ass, I cross my fingers and pray promise.
I'd also like to update you on the recent happenings in my life. Quite honestly, I don't know why you'd be interested in it but nonetheless, here's the news: 1. I'm turning a year older in a few days and it's killing me. 2. I still haven't gotten my tongue pierced and for that, I fail. 3. I got DARK tanned, gained weight and is about to cut my hair butch-style. So yeah, I'm pretty much gonna be the hottest thing in town. (Speaking of butch, I saw 2 butches making out inside the MRT earlier. Not that there's anything wrong with it, just not the most pleasing thing in the world to see O_o.)
ANYWAYSSSS…
So I had tea with Ade Magnaye a few hours ago ('coz we're sophisticated like that *sings* I don't drink coffee, I drink tea, my dear…) and our conversation was nice as always, albeit, a little retarded. I mean, we're not funnysexy and The Noisy Man for nothing. Long story short, we came to a few conclusions about why I'm still single. Excuse the fact that I've been mostly talking about my love life here, or the lack thereof. (I've been attending friends' weddings and the idea of marriage doesn't seem as far fetched to me as it was 2 years ago. That or it's just a bad case of abdominal gas.)