Please Tell Mr. Ninomiya Kazunari…
If you know Mr. Ninomiya Kazunari, please tell him that I love him. I may not be "in love" with him but I love him. So bad. I'm aware that there are a hundred million other fangirls around the world who probably say the same thing, who proclaim their undying love for him by flashing their boobies screaming their lungs out during concerts and buying every single version of their albums… In the greater scheme of things, I know that am but a nobody.
Please tell him, however that despite the fact that I haven't met him in person and that there's clearly a huge language barrier between us (the only Japanese phrases I've perfected are "Hai. Sou desu." and "Ganbarimasu! Fight-o!"), he had affected me in ways a lot of people won't even understand. I fell for him hard the first time I watched his performace of Konseki. I think I died that night when I realized he wrote that song himself. And the more I listened to his self-made music, the more I found myself getting lost in his awesomeness.
Konseki – the best Japanese song ever. Well, lolz.
Sure, he is an idol. A VERY POPULAR IDOL AT THAT. He even made a movie with Clint Eastwood, which was nominated for the Oscars. But if you're Nino-kun's friend, please tell him that I see him beyond being an Arashi member. I honestly even think that he doesn't have the best voice in the world and compared to say, Massu or that fugly Kawai Fumito dude, he can't dance to save his life. I don't buy their DVD's or albums, I won't be bothered to make a fansite and I haven't watched every single dorama and show he appeared in.
But please tell him that I LOVE him as an actor. No, I worship the very path he treads on ADORE him like no other. Stand Up! still is one of the best series I've seen in my life and I laughed and cried and clutched on my chest and went "aawwww" watching every single episode. Shohei had owned me since then but not as much an Nino did.
Shohei being his winner Sho-chan self.
His prank videos as well as the behind the scenes clips were the nails that sealed the coffin and I absolutely love him for being such a huge dork, maybe much more than I, and that's saying a lot. I believe we have very similar personalities and his humor just enamors me. Can you tell him that?
Can you please tell Ninomiya-san, too that I don't care if he smokes like a chimney and has dark gums, or if he's a hunch back and is just an inch taller than me? I don't give a shit if had dated and slept with a thousand girls, including Shiina Noriko and Nagasawa Masami or if spends a tad too much time on his Nintendo. I love him. He's a geek and a cool guy at the same time. And I've always wanted to get to know him not as a celebrity but as a real person. Hang out with him, you know, share a couple of drinks and if fate permits, maybe friendship and love, too. I mean, I'm just saying… And yes, I'm writing a film script just for him.
I hope I don't sound like some deranged fangirl who's out of touch with reality but pease tell Nino that there's a young lady somewhere in Manila who's working her ass off in the industry with the hopes that someday, she'd be so big, so famous, he'd ask his management to get her to work with the Jimushou (Annabelle Rama isn't my idol for nothing)… I will perfect Nihonggo and eat raw fish every single day if I had to.
I know this is redundant but just so you won't forget, please tell him I love him and the bebe picture below proves that we're totally OTP. Also, my name's Kring- in case he asks.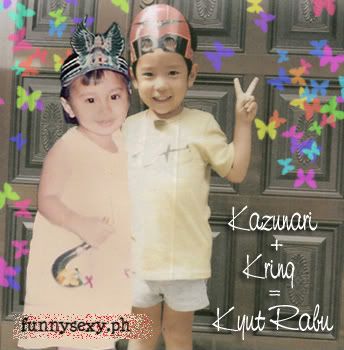 It's the hats, baby!
- I'm sure my 3 readers are scratching their heads going "WTF?!?!". Lolz. Just so you know, I'm a fangirl deep down.-
Tags: arashi, johnny's ent., nino, ninomiya kazunari
Trackback from your site.