Cebu… Say what? Cebu… Say who?
-THIS IS A VERY SELF-INDULGENT POST WITH LOTS OF PHOTOS. READ AT YOUR OWN RISK-
The title is already a clear give-away that this blog post is about the Queen City of the South, Cebu.
So 4 of my closest friends and I spent a weekened there last January 23-25 as a despedida trip for our dear Renan aka Rambo aka Janno Gibbs. He's migrating to the land of kangaroos and Vegiemites for good, sometime this year and a drunken Friday night at Gerry's Trinoma just won't do the trick.
And so we vowed to make this trip a blast and boy, we sure did.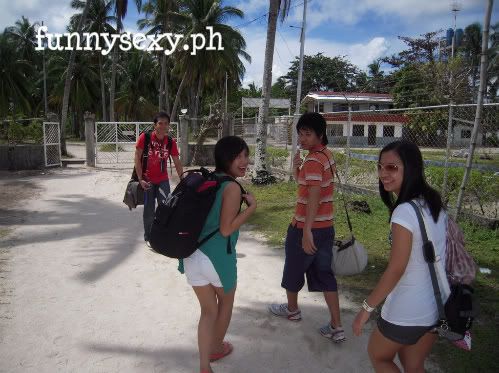 Starring: Ram, Wil, Kring, Selda and Tracy (taking the phot0)
Day 1
If there is one thing you need to know about me and my friends, it's that we never shut up. We just look at each other and randomly laugh. Like a bunch of idiots. 15 years of friendship can do that to you (except with Tracy, whom we've met just a couple of months ago). Honestly, I'm even surprised we weren't asked to jump off the plane.
Anyway, from the Mactan airport, we took cabs to the bus station for our trip up north to Bantayan Island. I was never a fan of ordinary buses because bitch, those grime and dust aren't very friendly to my face. But I didn't really have much of a choice. So I was told that we were going to take the Series Bus Liner until midway through the trip, I read the signage on the side of the bus and it said CERES. I felt really really bad after that.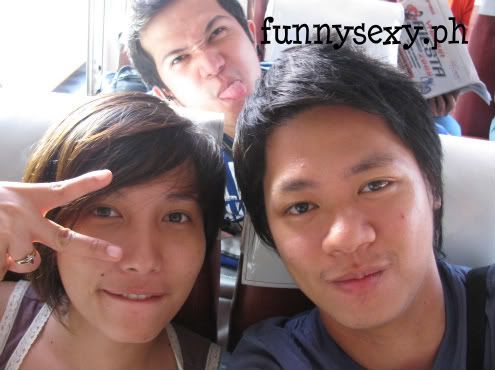 Goofing around inside the Series Ceres bus
From the port, one has to take a 1-hour ferry ride to the island and to pass time, we basically just cam-whored. Wait, no. Cam-whoring was pretty much all we did in Cebu and there was no mistaking that we looked more like tourists, with our cameras and floral clothes than them Koreans (yes, I will comment on this later).
Can I just say that Bantayan Island (as well as the ones around it) is so damn beautiful? I love that it's tranquil and blue and white and virgin. I mean, who doesn't like virgins? One of my friends whose identity will be undisclosed started humping the sand soon as we got there. "Ayan, hindi na siya virgin! (There, it's not virgin anymore!)", he said with a stupid grin on his face as I watched him with dread. TRUE STORY.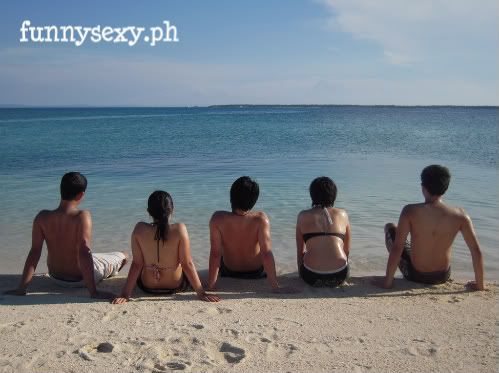 I mean, seriously. How can you go wrong with that?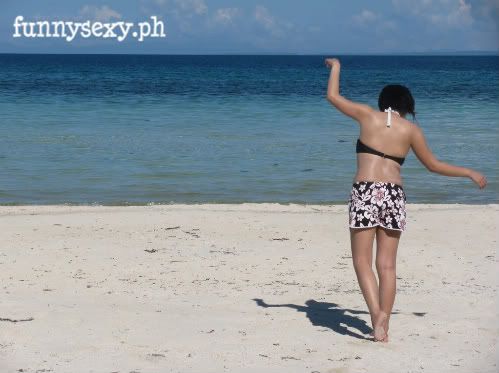 Because real women have flabs and love handles…
and I won't even conceal mine with Photoshop.
It was in Cebu that I realized I like soju. I mean, everybody else thought it tasted like crap and didn't even bother drinking it and so, eventhough one normally drinks it with a shot glass, I downed our bottle of Chamisul like soda. And 'coz of that, I fakken pwned them in Pusoy Dos.
Day 2
We went to the other side of the island to check out the Ugtong beach, which apparently was nicer. Besides the white sand, it has like a cave… with salt water flowing through it, creating a pool of some sort.
We didn't spend much time there though as we had to catch the ferry back to the main land and long story short, we made it back to the city at around 5pm, just in time for dinner.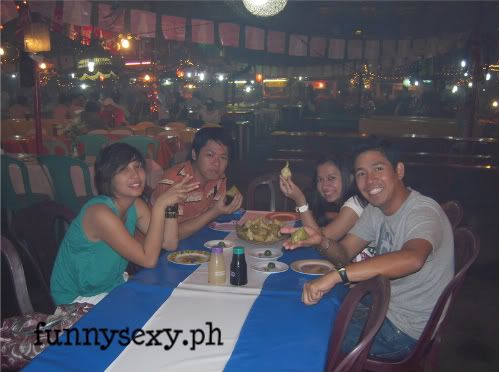 You'd most likely reek of smoke and chicken intestine when you eat at Larsian but honestly, who gives a shit? No pun intended.
My officemate, Jeff, who is a Cebu native made sure we ate at this place called Larsian. It's like a food court, except everything that's sold are ihaw-ihaw and puso. OMG IT WAS THE BEST. If there's something similar here in Manila, please let me know 'coz I did spazz at all the carcinogenic street food I laid my eyes on.
Right after dinner, we prepared for our night-out as I made it clear to them that we are, no matter what happens, hitting the clubs in Cebu. We ended up getting guest-listed in Club PUMP and I honestly thought I was teleported to somewhere in Seoul because shit, I've never seen so many Koreans together in one place in my life. Ever. Ever ever.
Yup, that's me going crazy up on the stage. All of those with the red dots are Filipinos and the rest are Koreans.
I'm not even exaggerating. I work in Ortigas and should be used to it by now but I'm serious!!! 80% of the people in the club were Koreans!!! And it was so much fail because there were a couple of hot guys who were kind of checking me out 'giving me the look' but they didn't even talk to me because, heh, they can't speak English I don't speak Korean.
And OMG did I flail and squee while dancing on the ledge lolz because Big Bang's Geo-jit-mal started playing!!! Anyway, more things took place in the club but my story will end here kthnxbi.
Day 3
The last day was our Cultural day and we toured the city for more cam-whoreing. I've been to Cebu when I was younger but I only got to go to… Yup, you guessed it right- Magellan's Cross. So this time, we saw to it that we'd visit all the tourist destinations and be all tourist-y and shit and become friends with other Korean tourists while doing jumpshots in the middle of the street.
The obligatory "barkada" shot at Magellan's Cross, courtesy of the nice oppa who took this photo for us.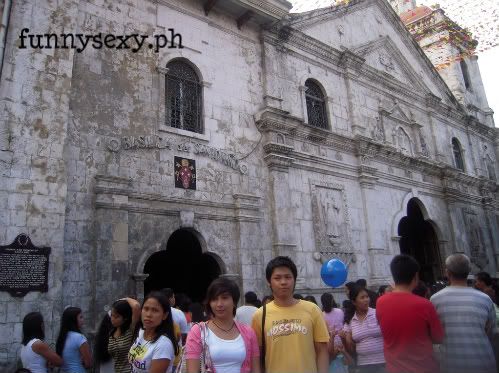 Wil and I at the Basilica del Sto. Nino.
It was a week after Sinulog and we could still feel the festivity in the air. And though there were too many people, the church was still a beauty to me. Check out the museum when you go there and be amazed.
Doesn't this photo remind you of the late 90′s teen shows like TGIS/Berks/Tabing-Ilog?
Fort San Pedro is like the Luneta/Intramuros of Cebu. It was packed on a Sunday afternoon but we didn't mind because we were more concerned about how our pictures would turn out.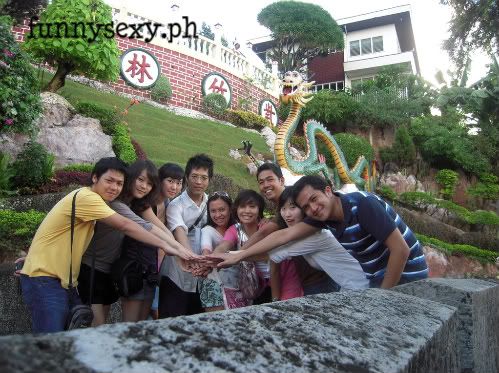 CEBU… HWAITING!
At the Taoist Temple with the Koryan friends we've met. I swear it was so fun chatting with them and too bad the guards kept hushing us down. But WTF were we thinking with that cheesy pose? Are we Herman Moreno or something?
Seriously, it was one tiring trip but I must say it was worth it. Cebu was great but my friends were much more awesomer. It doesn't really matter where we go, I think we'd have fun even if we just have coffee in Tondo. So guys, where to next time? Do I hear Japan? Australia? Yes? Yoshi!
ps: I'd like to thank the staff of Kapuso Mo, Jessica Soho for featuring me as funnysexy and as a ViP of Flippish.com… Lemme fondle you give you a big hug! *hugs*
Tags: bantayan island, cebu, club pump, gerry's gang, koreans, lasian, taoist temple, travel
Trackback from your site.