Television is Dead
Yes, biznatches. You read that right. WE ARE OFFICIALLY LAUNCHING AND YOU ARE OFFICIALLY INVITED.
Say what?
If you've been reading this blog long enough, there's absolutely no need for me to explain what flippish is. However, for the benefit of I dunno, first-timers lolololz, here's a short, almost boring overview:
flippish \fli-psh\ adj [fr. Filipino]

1: anything that has Filipino flavor.
2. fickle-minded or indecisive
3. odd, crazy or weird.

FLIPPISH is a play on the word Filipino. It means anything that has Filipino flavor or could also mean something that is odd, crazy or weird. Flippish.com is the first Pinoy online video channel that produces original online shows that are of broadcast quality. The people behind flippish believe that it is about time that we Filipinos take on the challenge of coming up with online entertainment that is of international standards.
There. Now on to the more exciting part. We will be having our official launch party on July 2, 2009 at Fiamma, Jupiter St., Makati at 8pm and I'll never talk to you again if you don't join us (nah, I'm just being overly dramatic)!!!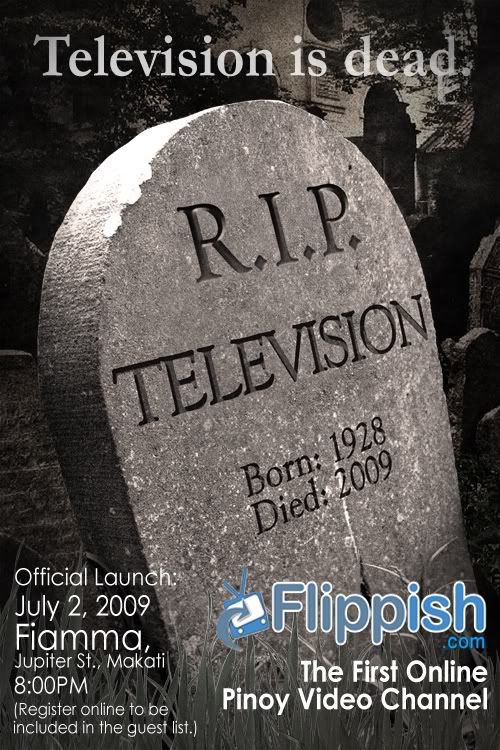 All you have to do to be cool like us naks! is register on the site and you'd automatically be part of the guestlist. Much as I'd like to say that you can just go there and tell the ushers that you read funnysexy, I'm sorry. That's not how it works.
GAME!!! We have a lot in store for y'all and it's gonna be awesome and we're gonna dance and drink and like have fun and shit (I get crazy when I go clubbing sometimes so please still have respect for me even if I end up wasted on the dance floor, drenched in my own vomit).
If you ever decide to attend, feel free to introduce yourself to us/me and let's hang out and enjoy the night! So what, can I expect you guys there? Leave your comments and let me know if you're going!
It won't be hard to spot me. I'd be in Sailor Moon cosplay.
ps: HERE'S THE MAP TO THE VENUE IN CASE YOU'RE FROM FAIRVIEW, TOO AND NOT VERY FAMILIAR WITH MAKATI.
pps: Please help me spread the word about the event. Please?
Tags: fiamma, flippish, launch party
Trackback from your site.